Climate change and human rights
"Climate change threatens our ability to achieve sustainable development, and in some cases, our very survival."                                                                                                             – Ban Ki-Moon
UNFCCC defines 'climate change' as a change of climate which is attributed directly or indirectly to human activity that alters the composition of the global atmosphere and which is in addition to natural climate variability observed over comparable time periods. The major impact of climate change include rise in average global temperature, ice cap melting, changes in precipitation, and increase in ocean temperature leading to sea level rise.
This climate change is having widespread impact on human rights across the world including the rights to life, self-determination, development, food, health, water and sanitation and housing.
Human rights are universal legal guarantees that protect individuals, groups and peoples against actions and omissions that interfere with their fundamental freedoms and entitlements. Human rights are universal and are based on the inherent dignity and equal worth of all human beings.
This can be understood by the following examples.
Climate change and impact on water resources:
According to scientific projections, climate change will significantly reduce surface water and groundwater resources in most dry subtropical regions, thus intensifying competition for water. The frequency of droughts, degradation of water supplies for human consumption will increase.
Affected rights: right to water and sanitation, right to health, right to life, right to food, right to an adequate standard of living.
Climate change and its impact on agriculture
According to scientific projections, climate change will have adverse effects in India and countries in the tropics. The monsoon accounting for 75% of India's rainfall significantly impacts country's agriculture and livelihood of tens of millions of small farmers. Climate change is likely to intensify the variability of monsoon dynamics, leading to a rise in extreme seasonal aberrations, such as increased precipitation and devastating floods in some parts of the country as well as reduced rainfall and prolonged droughts in other areas.
Affected rights: right to food, right to an adequate standard of living, right to health.
Climate change and its impact on urban areas
Climate-related phenomena such as rising sea levels, coastal storms, heat stress, extreme precipitation, inland and coastal flooding, landslides, drought, increased aridity, water scarcity, and air pollution "will have profound impacts on a broad spectrum of city functions, infrastructures, and services and will interact with and may exacerbate many existing stresses."
Affected rights: right to life, right to housing, right to health, right to water and sanitation, right to an adequate standard of living, right to property.
Climate change and its impact on vulnerable section
Women and children are particularly vulnerable to the effects of climate change. In the poorest regions of the world, women often bear the primary responsibility for gathering the essential food, water and fuel supplies for their families. Droughts caused by climate change make their work extremely hard as wells run dry, crop production declines, and fuel wood has to be collected from farther distances.
Similarly, shortages of food and water will increase malnutrition among children and diminish their chances to receive school education. Children are also more vulnerable to natural disasters as they lack physical strength, and are often orphaned or separated from their families.
Indigenous peoples are also particularly vulnerable to climate change, since their way of life is often inextricably tied to the natural environment. Consequently, environmental changes impact their ability to access water, food and shelter. Moreover, for many indigenous peoples, lands are not a mere commodity, but a central element of spiritual and cultural identity. Thus, serious environmental changes resulting from climate change can affect both their physical and spiritual survival.
Affected rights: right to life, right to dignity, right to health, right to water and sanitation, right to an adequate standard of living, right to property.
It is now clear that climate change caused by human activity has negative impacts on the full enjoyment of human rights.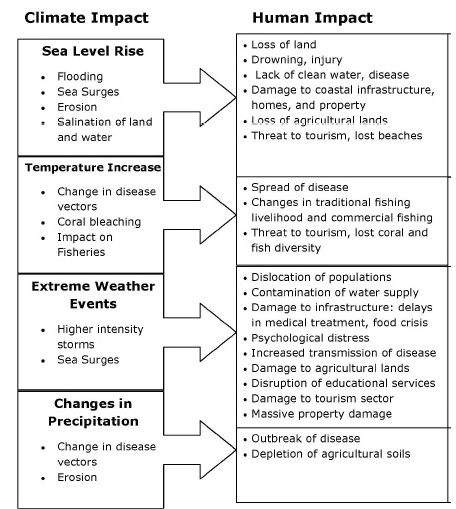 However, to address the human rights violation linked to climate change, Rights Based approach should be followed to minimise the impact.
A rights-based approach analyses obligations, inequalities and vulnerabilities, and seeks to redress discriminatory practices and unjust distributions of power. Under this the rights-holders and their entitlements are identified as well as the corresponding duty-bearers and their obligations in order to find ways for strengthening the capacities of rights-holders to make their claims and of duty-bearers to meet their obligations.
States (duty-bearers) should have an affirmative obligation to take effective measures to prevent and redress these climate impacts, and therefore, to mitigate climate change, and to ensure that all human beings (rights-holders) have the necessary capacity to adapt to the climate crisis. Affected individuals and communities mustparticipate, without discrimination, in the design and implementation of these projects. They musthave access to due process and to remedy if their rights are violated.A rights-based response should also maximizeinclusion, participation and equality.
Therefore to conclude, the Climate justice requires that climate action is consistent with existing human rights agreements, obligations, standards and principles. Those who have contributed the least to climate change unjustly and disproportionately suffer its harms. They must be meaningfulparticipants in and primary beneficiaries of climate action, and they must have access to effective remedies.